Posts for: August, 2013
By New Image Dental, LLC
August 21, 2013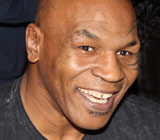 Mike Tyson's gap-toothed smile is part of athlete-turned-celebrity's signature look. During his two-decade career as a professional boxer, the former heavyweight champion has been known for both giving — and occasionally receiving — knockout punches. But the story of how he lost one set of front teeth is a bit more unusual.
In a recent interview with the Las Vegas Review Journal, Tyson's wife Kiki stated that one of the champ's major dental dilemmas didn't come from blows inside the ring. In fact, she said, Tyson lost the teeth after being head-butted by his pet tiger, Kenya.
It's too bad Tyson wasn't wearing a mouthguard before he decided to play with kitty.
Fight fans know that boxers always put in a mouthguard before they enter the ring. But the pugilistic pursuit is just one among the two-dozen-odd sports for which the American Dental Association recommends the use of custom mouthguards. Others include baseball, skateboarding, surfing and bicycling. (Maybe horsing around with tigers should be added to the list!)
Why is it so important for participants in athletic activities to use this piece of protective gear? According to the U.S. Centers for Disease Control, sports-related dental injuries account for over 600,000 emergency-room visits each year. Many of these injuries require further dental treatment; some may lead to tooth loss and require costly replacement. Not wearing a mouthguard makes an athlete 60 times more likely to sustain harm to the teeth, according to the American Dental Association. So there's really no contest.
You can find basic, off-the-shelf mouthguards in limited sizes at many sporting goods stores. But for a reasonable cost, we can provide you with a properly fitted dental appliance that's custom-made just for you. Starting with a precise model of your teeth, individual mouthguards are crafted from impact-resistant materials which are designed to be strong, comfortable, resilient — and effective.
Research shows that custom-made mouthguards offer superior quality and protection. So if you or your loved ones like to get out on the playing field, don't neglect this important piece of sporting equipment. And watch out for the cat.
If you have questions about mouthguards, please contact us or schedule an appointment for a consultation. You can learn more in the Dear Doctor magazine article "Athletic Mouthguards."
By New Image Dental, LLC
August 06, 2013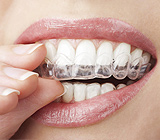 It used to be that the only option for straightening a teenager's teeth involved lots of shiny hardware. Besides the esthetic downside, traditional orthodontic devices (braces) can interfere with the enjoyment of certain favorite foods, irritate the inside of the mouth, trap food particles (potentially another esthetic embarrassment and sustenance for cavity-causing bacteria), and complicate dental hygiene routines.
These aren't causes for concern with clear orthodontic aligners, however, which consist of a series of transparent plastic, removable trays that fit over the teeth and gradually move them into better positioning. About every two weeks, the teen proceeds to the next aligner in the progression (or set of aligners if treatment involves both the upper and lower teeth) until the improved alignment goal is reached. The trays are meant to be worn 22 hours a day, but they can be removed for eating, brushing and flossing, and, on a limited basis, special occasions.
Thanks to relatively recent developments in the design of clear aligner systems, teens who previously were not considered good candidates for this modality may now have this option available to them. This includes:
Teens whose second molars (the last to come in except for wisdom teeth) haven't fully emerged. Aligners now come with "eruption tabs" that serve as place-holders for teeth that are still growing into position.
Teens with severely rotated teeth requiring complicated movement. Tooth-colored attachments called "buttons" can be temporarily bonded onto teeth to provide additional leverage, and elastics (rubber bands) can also be used to promote movement.
Compliance is always a concern with any orthodontic treatment — whether it be gum chewing with traditional braces or wearing clear aligners for the requisite period of time each day. Aligners now come with built-in colored "compliance indicators" that fade with use over time. This makes it possible for orthodontists, dentists, parents and teens alike to monitor both compliance and treatment progress.
If you would like more information about clear orthodontic aligners please contact us or schedule an appointment for a consultation. You can also learn more about this topic by reading the Dear Doctor magazine article "Clear Aligners for Teens."