Posts for: March, 2014
By New Image Dental, LLC
March 18, 2014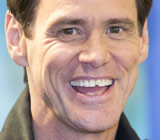 Fans of the classic bumbling-buddies comic film "Dumb and Dumber" will surely remember the chipped front tooth that Jim Carrey sported as simpleminded former limo driver Lloyd Christmas. Carrey reportedly came up with the idea for this look when considering ways to make his character appear more "deranged." He didn't need help from the make-up department, however… He simply had his dentist remove the dental bonding material on his left front tooth to reveal the chip he sustained in grade school!
Creating a Bond
A dental cosmetic bonding involves application of a composite filling material that our office can color and shape to match the original tooth. Bonding material can be used to replace the lost portion of tooth or to seamlessly reattach the lost portion if it has been preserved and is otherwise undamaged. Little to no removal of existing tooth surface is needed. This is the quickest and lowest-cost option to repair a chip.
Alternatives
When a relatively large portion of the tooth is missing, a crown is often the better choice. It fully encases the visible portion of the remaining tooth above the gum line and is shaped and sized to match the original. It can be made of tooth-colored porcelain fused to metal crowns or all-ceramic (optimal for highly visible areas). A small amount of the existing tooth surface will be removed to allow the crown to fit over it.
A veneer can be used to hide smaller areas of missing tooth. This is a thin, custom-made shell placed on the front of the tooth to give it a new "face." Some removal of existing tooth surface also may be necessary to fit a veneer.
A chipped tooth makes an impression, but generally not a flattering one. Nearly 20 years after "Dumb and Dumber" hit the theaters, the only thing Jim Carrey had to do recently to hint at a sequel for his nitwitted character was tweet a photo of that goofy grin!
If you would like more information about repairing a chipped tooth, please contact us or schedule an appointment for a consultation. You can also learn more about this topic by reading the Dear Doctor magazine article "Artistic Repair of Front Teeth With Composite Resin."
By New Image Dental, LLC
March 03, 2014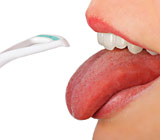 Although usually not considered a serious health condition, bad breath is nonetheless one of the most embarrassing conditions related to the mouth. Although some serious systemic diseases may result in mouth odor, most cases originate in the mouth or nose. Bacteria are usually the culprit — certain types of the organism can excrete volatile sulphur compounds, which emit a rotten egg or rotten fish smell.
The largest breeding ground for bacteria is the tongue, typically in the back where saliva and hygiene efforts aren't as efficient in removing food remnants. A bacterial coating can develop on the surface of the tongue, much like the plaque that can adhere to teeth; the coating becomes a haven for bacteria that cause bad breath.
There seems to be a propensity in some people who exhibit chronic bad breath to develop this tongue coating. To rid the tongue of this coating, people with this susceptibility could benefit from the use of a tongue brush or scraper. These hygienic devices are specifically designed for the shape and texture of the tongue to effectively remove any bacterial coating. Toothbrushes, which are designed for the hard surface of the teeth, have been shown not to be as effective in removing the coating as a tongue scraper.
Before considering using a tongue scraper you should consult with your dentist first. If you suspect you have chronic bad breath, it's important to determine the exact cause. Using a tongue scraper is unnecessary unless there's an identifiable coating that is contributing to the bad odor. It's also a good idea to obtain instruction from your dentist on the best techniques for using a tongue scraper to be as effective as possible and to avoid damaging soft tissues from over-aggressive use.
In addition, don't neglect other hygiene habits like brushing, flossing and regular cleanings. Removing as much bacterial plaque as you can contributes not only to a healthier mouth but also pleasanter breath.
If you would like more information on the tongue and halitosis, please contact us or schedule an appointment for a consultation. You can also learn more about this topic by reading the Dear Doctor magazine article "Tongue Scraping."