Posts for tag: bad breath
By New Image Dental, LLC
August 14, 2014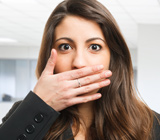 If you're experiencing chronic halitosis (bad breath), it could be a sign of oral disease (as well as a systemic condition or treatment). In fact, it's quite possible to visit our office about bad breath and find the cause is actually tooth decay, gum disease or some other oral condition.
In those cases treating the more serious condition might also result in a reduction in bad breath. Here are a few scenarios where such treatment could result in both better health and fresher breath.
Repairing decayed teeth. Repairing teeth damaged by decay — removing diseased tissue, filling cavities or repairing defective fillings — will also reduce the level of decay-causing bacteria. Such bacteria are often responsible for bad breath since they also release volatile sulphur compounds (VSCs), characterized by a foul "rotten eggs" odor. After treatment, these odors can diminish significantly.
Treating gum disease. Periodontal gum disease is a progressive infection caused by bacterial plaque. The basic treatment is to remove as much offending plaque and tartar (hard deposits) as possible. This may require extensive cleaning techniques (like root planing) to remove plaque from tooth root surfaces beneath the gum line, as well as antibiotic therapy. Periodontal therapy not only restores health to gum tissues, it may also alleviate bad breath caused by bacteria.
Extracting third molars (wisdom teeth). The opercula (flaps of gum tissue) around wisdom teeth have a tendency to trap food debris, which fosters bacterial growth. If this leads to chronic infection we may recommend removing the wisdom teeth. This not only reduces the chances of infection but may also alleviate bad breath caused by the bacterial growth.
Treating candidiasis. This is a yeast infection arising as a result of antibiotic use that suppresses normal oral flora. It's also a source of bad breath. Treating the infection and restoring normal balance in the mouth may help alleviate bad breath as well as prevent disease.
You may see a pattern here: many of these conditions that simultaneously contribute to bad breath stem from high levels of bacteria, which flourish in plaque built up on tooth surfaces due to inadequate oral hygiene. Effective daily brushing and flossing (along with semi-annual office cleanings) removes much of the offending bacterial plaque. As a result you'll experience better oral health — and maybe fresher breath too.
If you would like more information on controlling chronic bad breath, please contact us or schedule an appointment for a consultation. You can also learn more about this topic by reading the Dear Doctor magazine article "Bad Breath."
By New Image Dental, LLC
March 03, 2014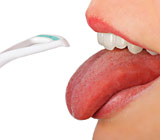 Although usually not considered a serious health condition, bad breath is nonetheless one of the most embarrassing conditions related to the mouth. Although some serious systemic diseases may result in mouth odor, most cases originate in the mouth or nose. Bacteria are usually the culprit — certain types of the organism can excrete volatile sulphur compounds, which emit a rotten egg or rotten fish smell.
The largest breeding ground for bacteria is the tongue, typically in the back where saliva and hygiene efforts aren't as efficient in removing food remnants. A bacterial coating can develop on the surface of the tongue, much like the plaque that can adhere to teeth; the coating becomes a haven for bacteria that cause bad breath.
There seems to be a propensity in some people who exhibit chronic bad breath to develop this tongue coating. To rid the tongue of this coating, people with this susceptibility could benefit from the use of a tongue brush or scraper. These hygienic devices are specifically designed for the shape and texture of the tongue to effectively remove any bacterial coating. Toothbrushes, which are designed for the hard surface of the teeth, have been shown not to be as effective in removing the coating as a tongue scraper.
Before considering using a tongue scraper you should consult with your dentist first. If you suspect you have chronic bad breath, it's important to determine the exact cause. Using a tongue scraper is unnecessary unless there's an identifiable coating that is contributing to the bad odor. It's also a good idea to obtain instruction from your dentist on the best techniques for using a tongue scraper to be as effective as possible and to avoid damaging soft tissues from over-aggressive use.
In addition, don't neglect other hygiene habits like brushing, flossing and regular cleanings. Removing as much bacterial plaque as you can contributes not only to a healthier mouth but also pleasanter breath.
If you would like more information on the tongue and halitosis, please contact us or schedule an appointment for a consultation. You can also learn more about this topic by reading the Dear Doctor magazine article "Tongue Scraping."